Invisalign – Rutland, MA
Convenient, Removable Appliances
Getting traditional braces means learning to live with them 24/7; you'll have to work around the appliance whenever you brush your teeth, and you'll need to be very careful about what you eat. But if your orthodontic issues aren't particularly severe, you might be able to enjoy a much more convenient alternative: Invisalign clear aligners. This treatment is highly customizable and will offer more freedom during your everyday life. Call Simply Orthodontics Rutland today to learn more about Invisalign in Rutland, MA!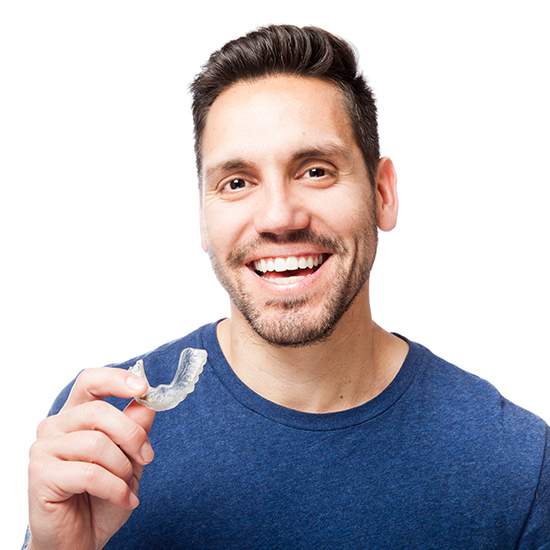 How Does Treatment Work?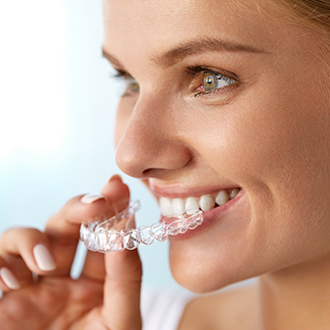 You'll be given a series of clear alignment trays that fit over your teeth. Each tray is designed for a specific stage of the realignment process, and you'll typically wear them for about two weeks at a time (possibly longer). Unlike traditional braces, Invisalign doesn't need to be adjusted, so you won't need as many appointments at our orthodontic office as you normally would. Bear in mind that once the main treatment is complete, you'll need to wear a retainer; otherwise, the results could be undone, and your teeth could shift back towards their original position.
What Can I Expect from Treatment?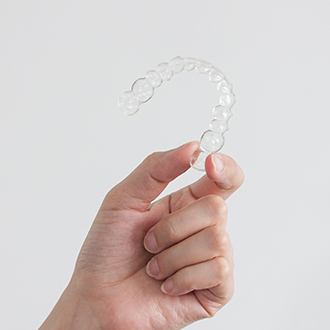 Since your Invisalign aligners are removable, you can eat any kinds of food you want, and you won't have to change your brushing and flossing habits to accommodate for your appliance. Keep in mind, however, that for the treatment to be successful, the aligners must be worn for most of the day, usually between 20 and 22 hours. This way they'll exert the required amount of pressure to force your teeth to move towards a healthier alignment. It's important to remember that while traditional braces are cleaned during regular oral hygiene purposes, you'll need to take Invisalign aligners out of your mouth in order to remove any plaque and food particles that have built up on them.
Am I A Candidate for Invisalign?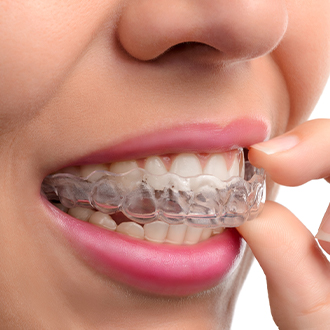 Not every orthodontic patient is a candidate for Invisalign. Severe misalignment and badly uneven bites both usually require traditional braces. Also, Invisalign doesn't generally work as well on the teeth near the back of your mouth. Still, the treatment should still be effective for addressing a wide variety of mild to moderate orthodontic issues.
Clear aligners generally aren't recommended for younger patients. Not only are their teeth still developing, but they tend to lack the discipline to leave the aligners in their mouths for the required 20 to 22 hours a day. As such, Invisalign will normally be offered specifically to adults and teenagers.
Understanding the Cost of Invisalign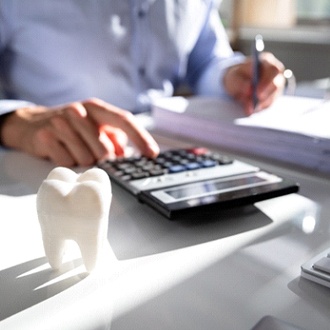 Now that you know what to expect from treatment and who is a candidate, you may be interested in learning about the cost of Invisalign in Rutland. It won't be long into your research that you find out each treatment plan is 100% customized to the patient, meaning there isn't a flat fee. The good news is that determining the exact cost is as easy as scheduling an appointment with our team! In the meantime, keep reading to learn about factors that impact the price.
Factors That Affect the Cost of Invisalign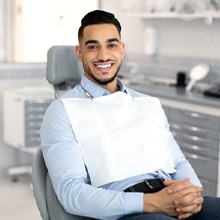 During your initial consultation, our Invisalign dentist in Rutland will determine:
How severe the orthodontic issue at hand is
How many aligners are needed
Whether you need to straighten both arches or just one
If any orthodontic accessories are needed, like rubber bands
It's also important to note that your commitment to following your orthodontist's instructions will also play a role. Additional costs often accrue from non-compliance, like neglecting to wear your aligners for 20-22 hours a day. So, make sure to implement all of the Invisalign best practices, from storing your trays safely to meeting your daily wear time.
Invisalign vs. Smile Direct Club™: Which Costs More?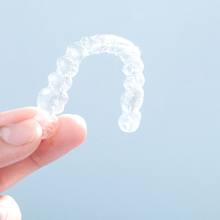 When comparing Invisalign to DIY clear aligner companies, like Smile Direct Club™, you'll quickly notice that the cost of the latter is significantly lower. Why is that? To start, DIY braces brands completely bypass crucial steps, like a thorough dental exam to screen for existing dental problems. Furthermore, they use do-it-yourself impressions (which are often inaccurate) to create their treatment plans and don't have in-person check-in appointments. Invisalign in Rutland, on the other hand, is extremely reliable – they've helped more than 10 million patients over the last 20 years! Plus, they use higher-quality materials and the treatments are supervised by licensed dental professionals.
Does Dental Insurance Cover Invisalign?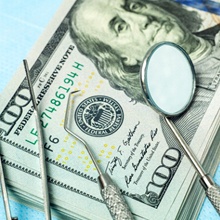 If you have a once-in-a-lifetime orthodontic benefit included in your dental plan, then it's very likely that a portion of the cost will be covered by your provider. Our knowledgeable team welcomes many of the nation's leading carriers, including Humana, MetLife, Aetna PPO, United Concordia, and more. As a result, we can help you better understand your benefits and utilize your available coverage.
Options for Making Invisalign Affordable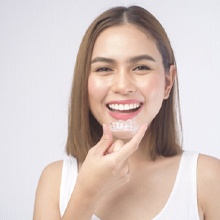 Whether you're unhappy with your dental insurance coverage or simply don't have any available benefits, it's important to know that there are other ways to make the cost of Invisalign in Rutland more affordable. To start, we welcome CareCredit. With this trusted third-party financier, you don't have to pay for your treatment in one lump sum – you can space out your payments over the course of several months! Plus, we offer special offers, like $650 off Invisalign. To learn about our latest specials, don't hesitate to get in touch with our team!
Invisalign FAQs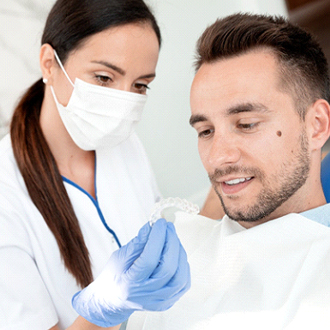 Whether you are just considering Invisalign or preparing to start treatment, you likely have many questions. At Simply Orthodontics Rutland, Dr. Gutierrez and Dr. Alkhoury are here to provide you with valuable insight and knowledge on what you can expect when beginning treatment with Invisalign. Considered a versatile orthodontic solution for individuals with overcrowding, gapped teeth, or even poorly aligned bites, we can address your concerns and provide additional clarity when it comes to wearing these clear aligners. Below are just a few FAQs we've compiled from our patients. After reviewing, please don't hesitate to contact us for further information.
What should I do if I accidentally damage or lose an aligner?
Although you are instructed to keep your aligners in a protective case while eating and/or drinking, you may accidentally damage or lose one or both of your aligners. If this happens, make sure to always keep your previous set and notify our office immediately. To avoid a significant delay in treatment, we may recommend that you wear your previous aligners until new ones are created for you, or if you are far enough along in the process, you may be able to start wearing the next set in the series. Our team will examine your progress and recommend which option is right for you.
Why is it necessary to wear the aligners 20-22 hours a day?
One of the greatest benefits of Invisalign is that you achieve results much quicker than with traditional metal braces. The reason this is possible is that patients are required to wear their trays 20-22 hours a day. Since these are a more flexible solution and are to be removed when eating, drinking, and cleaning your trays, you are expected to wear them the remainder of the day and night. This ensures that gentle, yet continual pressure is placed on your teeth so they will move in the right direction more quickly.
How often will I be expected to see the dentist while wearing Invisalign?
You can expect to have a scheduled appointment with Dr. Gutierrez or Dr. Alkhoury every four to six weeks while wearing Invisalign. Unlike traditional braces that require timely appointments resulting in forceful tightening and adjusting, these visits are quick and only require that we examine your smile and progress to ensure everything is moving along properly.
What are these "attachments" my dentist mentioned?
If your case involves more complex tooth movement, it may be necessary for our team to place SmartForce® attachments to your teeth, which are natural in color and make it possible for your aligners to gently push against. They allow your teeth to move in the right direction and are hardly noticeable. Not all patients require attachments, but if you do, we will apply them at the right time and remove them once they are no longer necessary for successful treatment.
I had braces in the past. Since my teeth have shifted, can I undergo treatment with Invisalign?
Yes! Even if you wore braces as a teenager, if your teeth have shifted over time, Invisalign can be an ideal solution for you. Whether you're a working professional, stay-at-home parent, or you just want to realign your smile for greater confidence, we can create customized aligners to help you achieve the permanent and more aesthetically pleasing smile you desire.